The social partnership system of the holding aims to coordinate the interests of employees and employers in the regulation of labor relations and the implementation of social policy. The Company fulfills all its obligations under the Labor Code of the Russian Federation, collective agreements of enterprises, and joint decisions.
The main tasks of employees ' representatives in the social partnership are to represent the rights and interests of employees during collective negotiations, the conclusion or amendment of the collective agreement, monitoring its implementation, and settlement of labor disputes.
The primary trade union organization of JSC Mosinzhproekt was established in 2015. Marina Mikhailovna Feofanova, Chairman of the Trade Union Committee.
Our trade union organization works responsibly, strives to be useful and interesting for everyone. We have effectively built internal communication systems between the company's employees, the trade union, and the employer. The main proof of this is the collective agreement signed and registered in January until December 2023.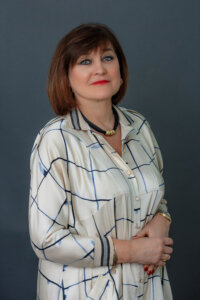 Marina FEOFANOVA
Chairman of the Trade Union Committee of JSC Mosinzhproekt
The trade union aims to improve labor and social conditions and works in the following areas:
1

Social and labor relations
Participation in labor disputes, legal advice
Financial assistance in case of severe life circumstances
Monitoring of compliance with labor legislation, implementation of the concluded collective agreement
Improvement and maintenance of working conditions, industrial safety
2

Cultural events
Weekend trips
Guided tours
Conducting corporate, thematic events
Tickets for the children's New Year party, purchasing of New Year's gifts for the children of trade union members
Theater Community
Meetings with speakers, training
3

Charity
Organization of the volunteer movement
Support for construction industry veterans
Support for retired employees
Conducting charity events
4

Sports and a healthy lifestyle
Promotion of a healthy lifestyle
Development of the corporate sport
Conducting sports events, tournaments, sports competitions
Vouchers to children's health camps and health resorts
Trade union achievements

Has a leading position among trade union organizations in the industry

100% involvement of union members

Union members achieve the highest results in sports and professional competitions

A collective agreement was signed and registered valid until December 2023