Commissioning: November 29, 2019
• Technical customer: Road and Bridge Construction Department NPI
• General designer: Mosinzhproekt JSC
• General contractor: Mostotrest PJSC
The facility became the final section that united the North-Western Chord from Dmitrovskoye highway to Michurinsky Prospekt, thus creating a route of continuous traffic from Nizhniye Mnevniki Street and Narodnogo Opolcheniya Street to the junction with Marshala Zhukova Avenue. As a result of the commissioning of the facility the traffic situation has significantly improved in the surrounding areas; the traffic speed was increased on the site, traffic congestion has been reduced due to the separation of vehicle flows.
As part of the project implemented:
• 2251 meters of new roads were built, including side driveways along the new bridge, exit from Karamyshevskaya Embankment onto Nizhnie Mnevniki Street, entrance to the housing estate of PSF KROST Ltd. and a section of Nizhnie Mnyovniki Street along Sluic No. 9 from the side driveways to the existing Karamyshevsky bridge
• 1561 meters of existing roads were reconstructed, including Nizhnie Mnyovniki Str, Narodnogo Opolcheniya Str. and Karamyshevskaya Embankment
• a unique six-lane girder bridge over the Karamyshevski straightening more than 600 meters long with a maximum span of about 200 meters were built
• accesses to the bridge were arranged
• an interchange was built at the intersection of Narodnogo Opolcheniya St. and Karamyshevskaya Embankment
• 4 new public transport stops were arranged (near Bld. 62, Nizhnie Mnyovniki Str., Bike Center, Narodnogo Opolcheniya Str., Karamyshevskaya Embankment)
• complex improvement of the urban area: trees (90 pieces) and shrubs (485 pieces) have been planted, lawns (12550 square meters) and flower beds (183 square meters) have been made, lawns (3650 square meters) have been restored)
• the territory of a specially protected natural area has been improved: coniferous trees have been planted (282 pieces), bushes have been shaped (1110 pieces), the grass has been cleaned and refurbished (2225 pieces). Within the framework of the environmental protection works of the project, the windows were replaced by noise protective ones (879 windows in 5 buildings), the closed system of water gutters from the mainline with the following sewage treatment is installed, noise protective screens on the bridge from the side of the housing estate.

As a result of the commissioning of the facility, conditions for pedestrians and users of public transport have become more comfortable due to the installation of sidewalks made of granite tiles, modern stop pavilions with navigation pylons, etc. For the safety and comfort of road users, there is a regulated crosswalk through Karamyshevskaya Embankment in residential development to the landscaped public garden located between the embankment and the sluice. Work has been done to create an accessible environment for people with limited mobility.
During the construction, several advanced engineering and technological solutions, engineering and technical support, and control systems were applied:
We have an automated traffic control system for traffic congestion, accidents, traffic restrictions, traffic organization and speed changes, etc.
The system of traffic flow monitoring and video surveillance:
– Detector complexes for rapid response to changes in the traffic situation;
– Overview rotary stationary television cameras;
– Dynamic information boards.
The video surveillance system and dispatching on the bridge are based on the use of IT technology. It provides visual monitoring of objects in real-time, recording, storing information, and displaying the information obtained on the automated workstation dispatcher Gormost.
Automatic de-icing complex (ADC) to prevent ice phenomena on the bridge.
Telemechanical control of exterior lighting to automate management from the control room, automation of collection and transmission of control information, collection of information from electricity meters and transfer it to the control room
---
AWARDS AND ACHIEVEMENTS: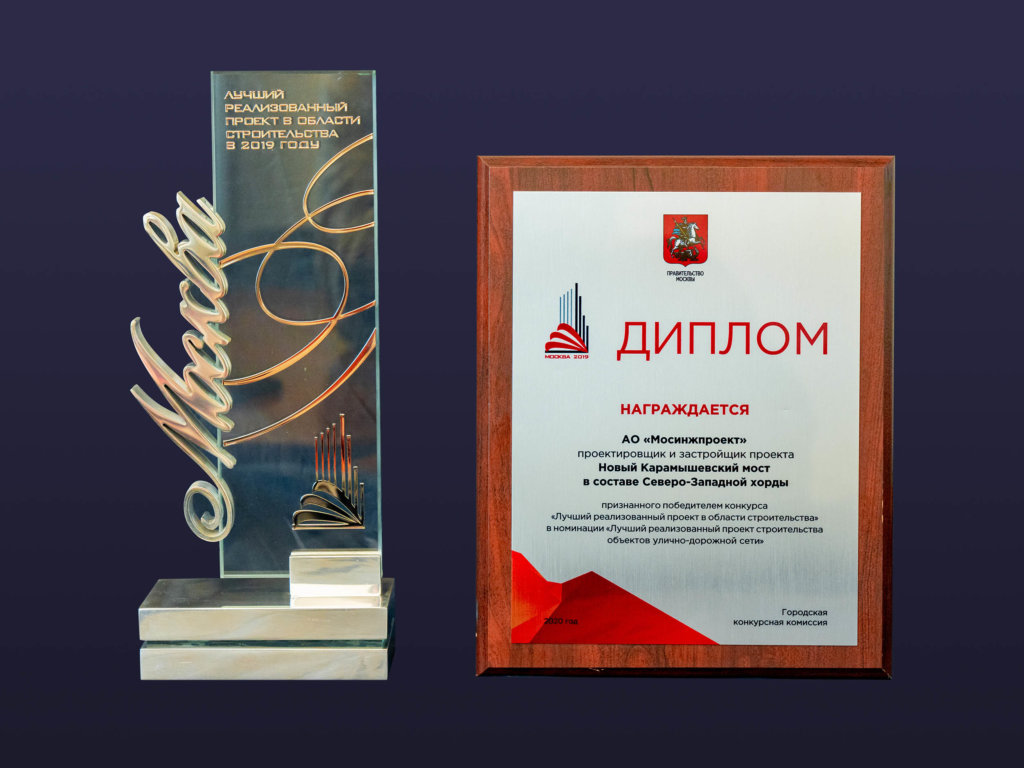 The Karamyshevsky bridge as part of the North-Western Chord – the winner in the Best Implemented Project for Construction of Street and Road Network Facilities category of The Best Implemented Project in the Construction Industry competition
---
CONSTRUCTION WORK:
Photo: Mosinzhproekt, Moscow Stroykomplex